The purchase was linked to a requirement from South East Coast Ambulance Services. A pre-let was agreed and Nexus 4, a 58,000 sq ft landmark office, was completed in February of this year.
Vail Williams Planning was appointed to secure a hybrid planning consent for the site. In total the planning consent permitted just over 231,000 sq. ft. of new floor space, 90% of which will be for B1 use. The hybrid application for 3 land parcels was the first ever received by Crawley Borough Council and presented a fresh set of challenges for Vail Williams in ensuring the smooth running of the applications. Parcels 1 and 3 achieved outline permission, whilst parcel 2, Nexus 4, received detailed permission. The team negotiated an S278 agreement regarding modifications to the highway, including securing significant savings in planning contributions. Once pre-let terms were agreed on parcel 1, a detailed permission was secured, involving a Deed of Variation to the S106.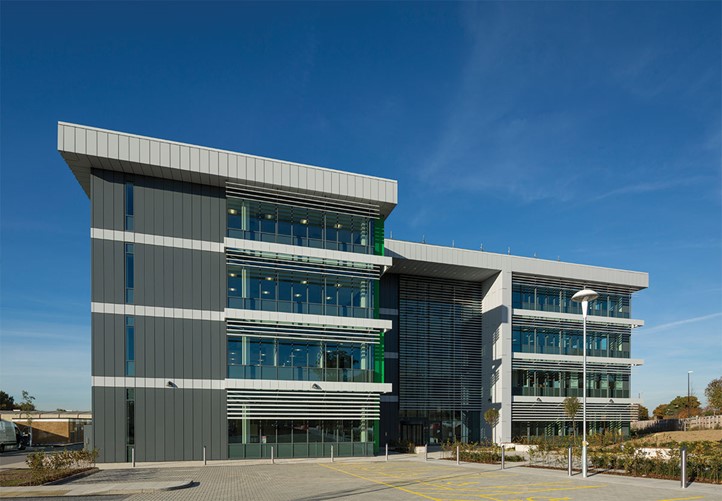 Pre-letting: The Vail Williams agency team were appointed to let the upper two floors in Nexus 4 and seek pre-lets on the adjoining land parcels. The team identified
L3 Commercial Training Solutions who needed a major bespoke flight training facility of around 160,000 sq ft to be completed within a challenging timescale. Detailed discussions progressed resulting in:
A pre-letting of 159,628 sq ft in two buildings with 285 car spaces
An Agreement for Lease and Lease for 20 years on full repairing and insuring terms
Vail Williams Planning secured full planning consent including a MMA (Minor Material Amendment) to accommodate value engineering changes
Phased completion of the Flight Training and Operations building, with early access provisions
Tenant fit-out works undertaken under the main building contract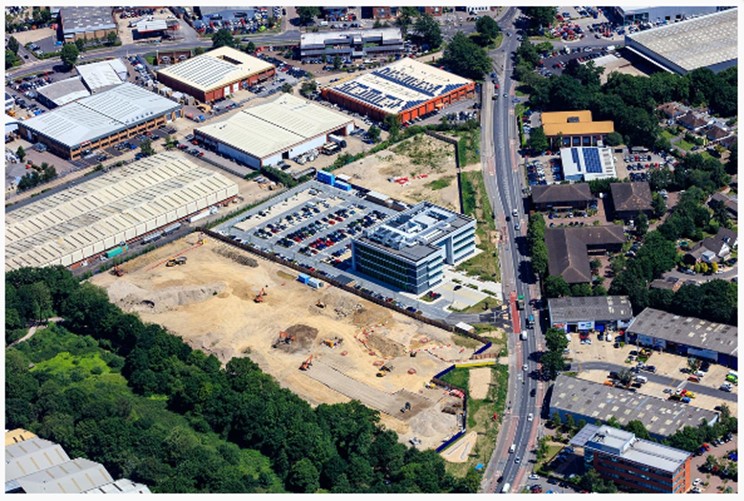 The new facility: The purpose-built airline training centre and operations facility for the manufacture of aircraft simulators will open in Q4 of 2018, and will benefit pilots and
trainees from across the aviation sector. The training centre, located close to London Gatwick Airport, will feature eight RealitySeven full flight simulators, fixed-based simulators, briefing rooms and classrooms, meeting rooms, and a restaurant. The manufacturing building will build 30 simulators per year, and provide office space for more than 300 employees.
Challenges
Securing an acceptable hybrid and detailed planning consent with the required 'non-policy' parking provision.
Agreeing the building specification and scope of the tenant fit out works to be undertaken by the main contractor
Agreeing the detailed Agreement for Lease documentation in a timely manner to enable the delivery programme to be maintained.
Results
Having acquired the site for our client in 2014, Vail Williams has been responsible for securing two pre-letting which account for 85% of the site. Vail Williams identified the L3 requirement, negotiated Heads of Terms for an Agreement for Lease and Lease, secured a detailed planning consent and undertook the transaction management through to a successful exchange of contracts. This letting to L3 is the largest pre-letting in the area since 2007.


"Surrey County Council have worked collaboratively with a multi-disciplinary team at Vail Williams to deliver an important development project for the Council. We have been delighted with the dedication, enthusiasm and professional approach taken by all the Vail Williams team members and the success of the project is in no small part down to their participation".


Other Property Development Advice, Property Planning Advice and Property Acquisition and Disposal Case Studies
Highcross Strategic Advisers Limited The property planning consultancy team was appointed by Highcross Strategic Advisers Limited (now No... Read more
Frimley Park Children's Centre The property planning consultancy team was appointed by Frimley Park Hospital NHS Foundation Trust t... Read more
Frimley Park Hospital NHS Foundation Trust The property planning consultancy team was appointed by Frimley Park Hospital NHS Foundation Trust t... Read more
See all Property Development Advice case studies
See all Property Planning Advice case studies
See all Property Acquisition and Disposal case studies