Working closely with the developer and contractor, Buckingham Group Contracting, we created a development brief and agreed the specification for the new build warehouse.

Once the works commenced we undertook regular development monitoring of the building shell and ensured that the fit out works were co-ordinated with the developers works.
We designed and project managed the fit out works on behalf of The Entertainer.
These comprised the mezzanines and racking, lighting and emergency lighting, sprinkler installations and obtaining all statutory approvals.
At completion we undertook a detailed quality review, to ensure the final product was delivered to the right standard.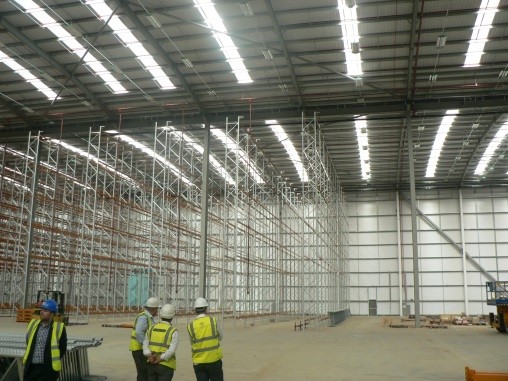 Challenges
Due a lease event on our client's other building, which we helped them to acquire some two years prior, the timescales for completion of their new facility were driven by their imminent exit.
This resulted in tight timescales for delivery, requiring lateral though and excellent project management skills to ensure delivery of the new facility on time.
The project also required a good understanding of the design and build process, co-ordinating the base build and fit works designs to ensure the necessary finish to specification, whilst meeting the requirements for specialist drainage and site bunding.
Result
The result was the new-build the 235,000 sq ft warehouse fully fitted out and operationally ready which we project managed from brief to completion, providing a turnkey solution within a tight timeframe.
Other Building Consultancy Case Studies
Software company (confidential) The Building Consultancy team was appointed by multinational enterprise software company to advise o... Read more
Surrey County Council The building consultancy team was appointed by Surrey County Council to advise on a dilapidations cl... Read more
H Smith Food Group plc The building consultancy team was appointed by one of the UK's leading wholesalers and importers of ... Read more
See all Building Consultancy case studies