In a deal worth £67.7m, Hines UK has sold the 200,000 sq. ft. space in Bracknell, which is now home to seven businesses, to Frasers Property.
Acting on behalf of Hines UK and funds managed by Oaktree Capital Management LLP, leading property agent, Vail Williams LLP, advised on the lettings of the grade A office space over the course of the last 18 months.
Having acquired Maxis at the height of the recession, the partnership aimed to turn around the asset for sale at the right time and to the right buyer.
Experts from Vail Williams' Property Acquisition and Disposal team secured a total of 165,000 sq. ft. in lettings across the two buildings, Maxis 1 and Maxis 2. This bought occupancy levels to 100%, surpassing the target of 95% which was needed to trigger the successful sale of the asset.
Raj Rajput, Managing Director, Hines UK, said: "Thanks to the knowledge and expertise of the team at Vail Williams, we have been able to capitalise on the buzz surrounding Bracknell with the Lexicon town centre redevelopment, to secure the sale of a 100% let, income-producing, office asset with great appeal amongst global brands like Panasonic."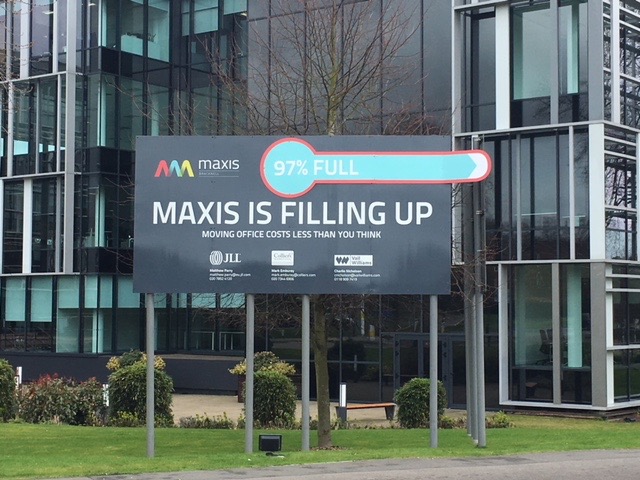 The final let was secured by PaperCut Software earlier this year, who committed to 5,400 sq. ft. Other tenants, all of whom signed 5 or 10-year leases, include global electronic giant Panasonic (41,000 sq. ft), JDA Software (23,800 sq. ft), Riverbed Technologies (16,600 sq. ft), Cyren (3,200 sq. ft), Cadence (22,300 sq. ft), and Allegis Group (31,000 sq. ft). These lettings added to the mix of Morgan Lovell/Overbury, HiFX who moved from Windsor; in addition to Vail Williams clients Mitie who took the majority of the ground floor of Maxis 1.
Charlie Nicholson, a Partner based in Vail Williams' Reading office, said: "We're thrilled to have played a pivotal role in achieving 100% occupancy at Maxis, which in turn has resulted in the successful sale of the office campus to Frasers Property, a firm we work closely with on Winnersh Triangle business park in Reading.
"Our team of advisers transformed the marketing of Maxis to prospective tenants by drawing on our knowledge of the sector, the local area and what tenants sought from their office space.
"We're pleased to see the office campus as the thriving business hub it is today, and we're delighted to have delivered a positive outcome for Hines."
Vail Williams' campaign focused on promoting the benefits of working within a community of like-minded businesses operating within the technology, media and telecommunications sector, which was building momentum in the local area.

Office flexibility, high specification and facilities were marketed alongside excellent transport links and the surrounding retail offer at Lexicon, a nearby 580,000 sq. ft. retail park.