Written for busy entrepreneurs, the publication provides commentary and interviews on current legal and commercial issues affecting growing businesses.
Businesses experiencing growth will face an abundance of issues along the road. One of these issues, often underestimated by those with little or no prior property experience, is dilapidations.

Dilapidations is a rather arcane and obscure area of law and can leave an unwary business with potentially very burdensome obligations and liabilities.
Chartered surveyors and lawyers well versed in the art of dilapidations can offer occupiers of property invaluable practical and legal advice to help their business deal with any potential problems or claims arising over the life of the lease.
To help demystify the subject, Sean Daniels, a Chartered Surveyor who specialises in dilapidations advice based in our Reading office, spoke to Stevens&Bolton to give some invaluable insight for their 'Ask the Advisor' feature into what dilapidations are and some of the common issues that tenants face when moving to a new premises.
Click on the image below to read the article in full on page 8.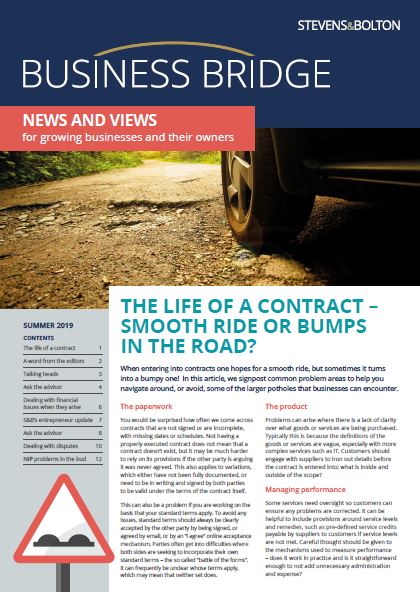 Download the PDF version of the magazine here.