Our Government is preparing for all eventualities regardless of which political party will form the next administration. But for those of us charged with a duty to others, there is the increasingly challenging task of leading business of all sizes through continued uncertainty, as they try to plan for the future despite a plethora of unknowns.
One such unknown is the future of our business rates system, which has recently been under review by the Treasury Select Committee.
Business rates as a tax concept has been around for hundreds of years having come into existence in 1601.
They have been relied on throughout wars and turbulence to deliver a steady stream of revenue to fund government expenditure, but its last major reform was way back in 1988.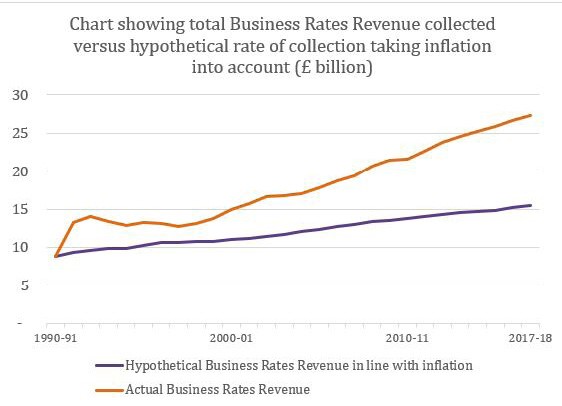 These days, business rates deliver £31 billion to the Exchequer each year – revenue which, unlike other forms of taxation, exceeds the rate of inflation.
Recently (31 October), the Treasury Select Committee published their report looking into the business rates system as it currently stands, a process which was informed by evidence supplied from representative organisations.
Interestingly, beyond the usual (and justified) complaints of our business rates system being regressive, there have been some realistic proposals put forward to help improve this complex tax liability, including:
An alternative Land Tax: By encouraging the best use of land, particularly in more valuable locations, this will encourage public investment in infrastructure and would link increases in land value to revenue so that investment projects could become potentially self-funding.
Corporation Tax: It has been proposed to cancel the forthcoming reduction in the corporation tax rate from 19% to 17% and reduce the business rates multiplier instead.
Retail levy: Proposals to introduce a 2% levy on the online sale of physical goods could raise approximately £1.5 billion which could be used to fund a 20% cut in business rates for all retailers.
Tax consolidation: A single consolidated tax for small businesses encapsulating Corporation Tax, Employer's National Insurance, VAT and business rates, would create a single easy-to-administer system.
What does the report mean for your business now?
There have been no immediate proposals to change anything, merely recommendations at this stage.
Because we do not have the luxury of waiting for a magical reform that will leave our businesses better off, here are some of the things that you can action now, which will leave you as prepared as possible for your future liabilities under this property tax.
Register your company on the VOA portal and claim your properties
Tax is being made digital on every front, business rates went digital on 1 April 2017 and the majority of ratepayers have not registered yet. No registration = no ability to challenge or reduce your business rates.
Ensure that you have claimed any allowances
Government has flexed with public pressure to offer relief schemes – there are many. Make sure you get advice on your eligibility.
Check how you are paying
Are you paying by 12 monthly instalments? Many businesses are paying on the old system of ten monthly instalments, so check your rate demand and change it to 12 monthly payments to help relieve some of the financial burden each month.
Check if you have been over or under assessed
The VOA publishes your floor areas and basis of valuation and a cursory glance at these could tell you whether you have been over or under assessed, potentially opening up the opportunity to make a claim.
Get professional advice
The Royal Institution of Chartered Surveyors (RICS) is the gold standard of rating valuation and business rates advice, so getting the help of a Chartered Surveyor who is uniquely equipped to provide expert insight, could help to save you money in the long run.
For help or advice on any of the issues discussed in this article, don't hesitate to get in touch with our business rates experts.